A few weeks ago one of my musical confederates, Sean Bowley from Eden, was celebrating his birthday. Sean is a consummate 1960's kid – he collects paisley confection shirts, his home is a retro wonderland of vintage guitar gear and daikaiju toys (presided over by the Siamese brothers Tiki and Mr Bagatov), and his melodic writing is heavily influenced by the naive modalism of 60's pop music. Over at his Facebook page, Sean had published a nostalgic reverie about playing in his Nana's rural backyard in the 1960s (reprinted with permission), accompanying a super quirky clip of The Easybeats performing on French TV:
It's my birthday this weekend. I'm thinking about the journey thus far. I've attached a clip of The Easybeats performing 'Friday On My Mind' on French TV. This is a perfect picture of how musicians presented when I was born. Stevie Wright (vocalist) looks like a wind up toy. So much energy and exuberance! Stevie had that perfect blend of hyperactivity, cheekiness and a great voice. I have no doubt whatsoever that the guitarists, George Young and Harry Vanda, were both prime influences for my future life being shaped by the guitar. The eastern raga-esque riff of this song deeply influenced my unique personal guitar style. The honking earthy twang of the guitars in this song sparked my long standing romance with vintage style Vox guitar amplifiers. George Young is playing an electric 12-string Maton guitar – anyone who knows my loves in this life, knows that the electric 12 is my soul instrument. This song makes me recall a world that was so intrinsically filled with colour – a world where there were no limits and we were all traveling to the moon. I can see myself playing in my Nana's back garden in Bairnsdale, rich blue skies above and an array of beautiful toys by my side. Aunt Coral looks resplendent in her striped Mod clothes and perfect Blonde Mod bobbed hair do; her hip Volkswagen Beetle is parked next to Grandpa's 1959 Plymouth Belvedere. 'Friday On My Mind' is playing on my Aunt Coral's transistor radio…

So, that paints a picture! I wanted to put together a cheerful "box of fun" as a birthday present that reflected the vibrancy and daring of 60's design and fashion, with some references to music. This was a thrifty-but-oh-so-stylish gift; there is something very bohemian about hobbling together a box of colours, flavours, and "experiences". I had a lucky find in a delightful pocket-sized journal, which I discovered at the Australian Centre for the Moving Image gift shop; it features inspiring quotes by a variety of male creative artists, contrasted with floral and paisley illustrations and texture details. The cover featured a quote from Pablo Casals: "…say things to the world that are true…"
Casals was a nice connection to a more formal music tradition; the virtuoso cellist was the preeminent soloist on cello in the mid twentieth century, and he was also a very fine writer, leaving the world many distinctly wise and beautiful quotes about creative arts practice and living well. I could imagine Sean carrying this journal in his winter coat pocket, and jotting down images and phrases for use in his lyrics. It has a lovely tactile quality, and with the vivid colours and refreshing quotes, it makes a fine talisman against the drudge of the humdrum (as is the song 'Friday On My Mind'), inspiring a creative mode of thinking in small but essential moments.
I thought about pairing the journal with a bottle of wine, but decided to opt instead for a "mini-tasting" of Belgian beers, as Sean sips different imported beers before rehearsals (perhaps a brief sojourn to the moon). The lovely chap at my local Mayerling Cellars kindly allowed me to mix and match a few different beers across their "buy three of one kind" boutique beer sale offer.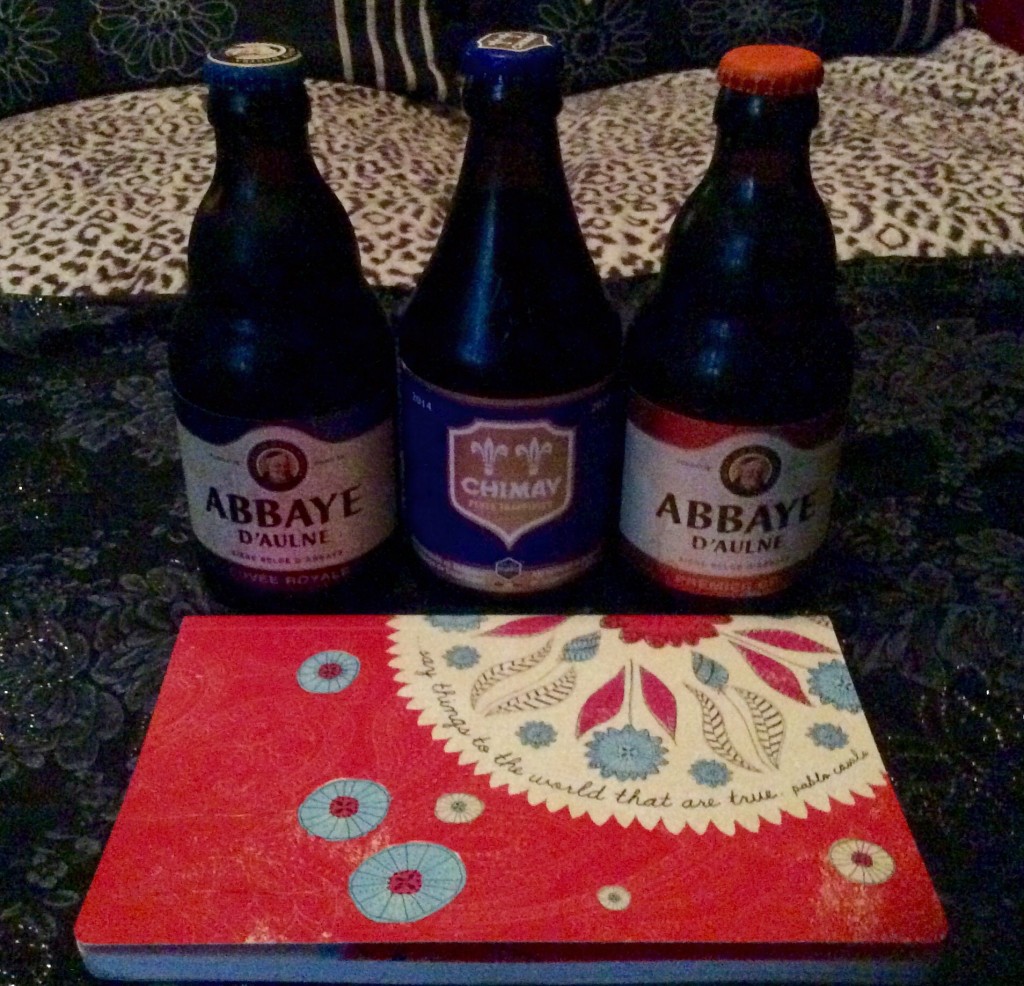 Abbaye D'Aulne beers originate from the modern brewery operating from Aulne Abbey in the Vallée de la Paix (Valley of Peace), Walloon Region, Belgium. Beers have been brewed at Aulne Abbey since the middle ages, and the commercial brewery has operated there since the 1950s. The two beers I chose are the 'PREMIER CRU 9°', a full-bodied blond beer, and the 'CUVÉE ROYALE 9°', a strong brown beer with an intense taste. The ideal drinking temperatures for these beers are 8°C and 10 to 12°C respectively, which is noticeably warmer than the 0.5 to 5°C (straight from the fridge) or 0.5 to 3°C (Australian standard beer taps) at which Australians are accustomed to drinking our beer. Those super-chilled temperatures make sense in the blistering heat of summer, but winter in Melbourne… surely we can sample European beers at the traditional temperatures! I completed the beer sample with a 'CHIMAY BLEUE Grande Réserve' from the Chimay Brewery at Scourmont Abbey in southern Hainaut, Belgium; the profits from this beer support a still-functioning monastery and various charity works. This is a dark ale, with a complex flavour and powerful aroma; it has an ideal drinking temperature of 10 to 12°C.
To complete the gift I needed a card and some kind of wrapping. I had another lucky find in a beautifully textured card featuring a very 60's "Zenith Blue" guitar illustration, and a really lovely quote: "Hope you feel celebrated, happy, and just plain good… ALL YEAR LONG." (This was the perfect sentiment!) I actually think the box I found at the Croydon Party Shop was the best thing about the gift; with a deliriously busy and kitsch design of birds and flowers and butterflies and owls, it echoed the bold colours decorating the journal. It also reminded me of Sean's song 'Perfumed Garden', which evokes a place existing only in fantasy or memory. I set off the brightness with some red and gold ribbon and orange cellophane, which made this very simple gift pop with wow!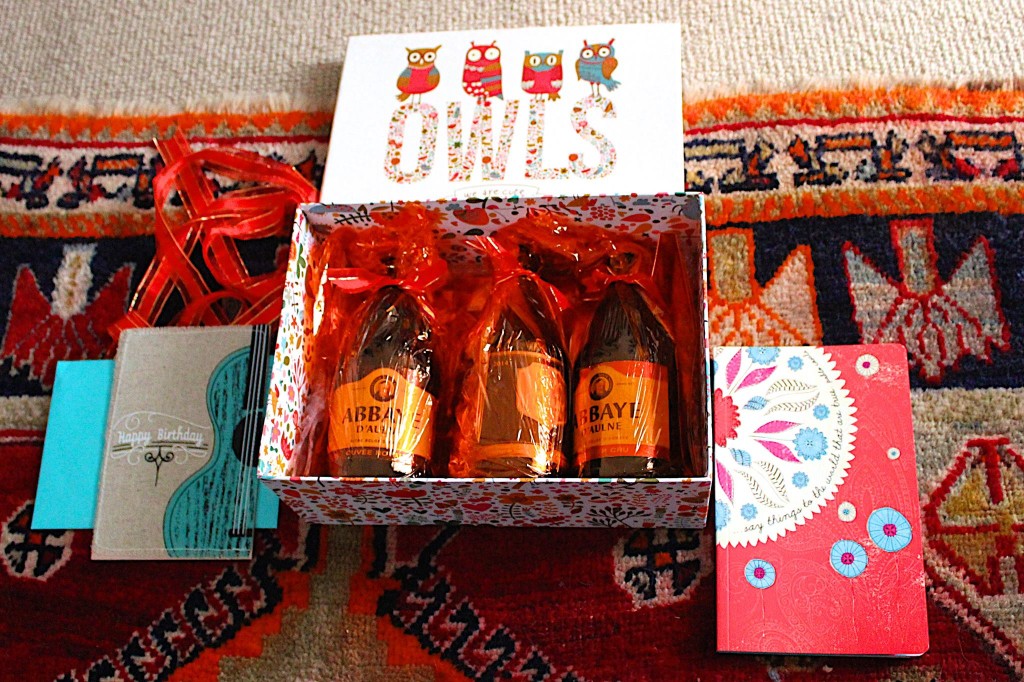 Sean's Birthday Party was very lovely, with many creative types mingling in his funky apartment in a re-purposed nineteenth century pub.  If you would like to hear the Eden song 'Perfumed Garden' – it has not yet been recorded! However, Melbourne folks take note: Eden will be performing a gig in early October – details out soon!

If you are in the mood for some more mid-60s very Australian fun, the Australian Movie Channel have a great little documentary freely available on YouTube: 'Friday On My Mind: The Story Of The Easybeats'.